The Rainbow Puddle
Season 1, Episode 6
Air date
October 10,1997
Written by
Mick Inkpen
Directed by
Mike Stuart
Episode guide
Previous
Pig's Present
Next
The Butterfly
The Rainbow Puddle is the sixth episode of Season 1.
Kipper is jumping in the puddles on a rainy day, and he sees a rainbow next to a puddle, and he finds a magic frog in a puddle. But the frog keeps on jumping away from Kipper's hand, Kipper wishes that he could catch the frog, and he wishes that he didn't have to kiss it. Then, the magic frog says Kipper's wishes are too small and Kipper says that magic things are when big things happen, the magic frog shows Kipper and they end up on the top of an elephant. The elephant drinks up the puddle.
Devastated and heartbroken by this, the frog starts crying and moping. Kipper decides to use the last wish, he whispers the wish to the elephant and Kipper kisses the frog, then the puddle appears again and the frog has his puddle back again.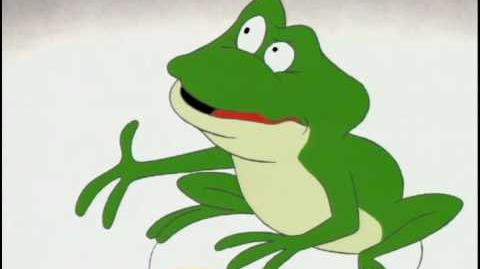 The frog is introduced in this episode, even though in the theme song, he has made a cameo when the singer says "Now that's a frog."
In real life, Kipper would have gotten sick if he kissed a frog.
A puddle needs a hole, not the solid ground, or there would be no puddle.
In April of 2012 on The Sunny Side Up Show on Sprout's Scrambled April Fun Day, the same episode should have been used, but it wasn't shown that way. Instead, they had to use Tiger's Joke Box. The end credits of The Rainbow Puddle was only shown.
Community content is available under
CC-BY-SA
unless otherwise noted.