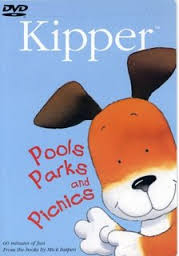 Pools, Parks and Picnics
is a Kipper the Dog VHS released on June 5th 2001. It was later re-released on VHS again with DVD in July 1st 2002.
Trivia/Goofs
Edit
This is the first Kipper video made under Lyrick Studios.
This is one out of few Kipper videos to have the program's title in the first few seconds of the opening intro.
As with Tiger Tales, which was released the same day as this video, the "Come on Over to Barney's House" trailer at the beginning of the VHS version has Dean Barnett's "Now from Lyrick Studios" voiceover on it, meaning that they both might have been produced between 2000 and 2002. However, the second trailer is for Bob the Builder, so this is unlikely to be true. At the end of the VHS version that has 2 Different Music Videos from the mid 90's of The Wiggles (Big Red Car and Wake Up Jeff). In Tiger Tales at the end, It has the Dorothy (Would you like to Dance) music video from "Wake Up Jeff" (1996) and this video at the end, It has the Dorothy's Dance Party music video from "Big Red Car" (1995).