Pirates
Season 4, Episode 3
Air date
October 7, 1999
Written by
George Tarry
Directed by
Mike Stuart
Episode guide
Previous
The Ball
Next
Tiger's Cold
Pirates is the third episode of Season 4.
One day Kipper and Tiger were making airplanes and boats saying they're the best then Kipper said they should take them to the stream. Tiger said they should have a race everything went well until Kipper's boat got stuck Tiger thought him helping it was cheating but when the boats came to the bridge they were fighting thinking they won but they sank then they heard something. Kipper thought it was a submarine but it was just so old big cans he tried to stand on it but he kept falling Tiger laughed. Once the cans were out they praticed rolling on them then Kipper said they should make the cans into a raft and play pirates Tiger said he would tie them together but he had trouble making knots. Tiger tried making knots but had trouble Kipper went get supplies when Pig arrived. Pig said he had a new hideout he offered Kipper to come, but he said he can't so Pig asked Tiger but he was too busy making knots he didn't notice Pig. Later Kipper made the hats, and they were off.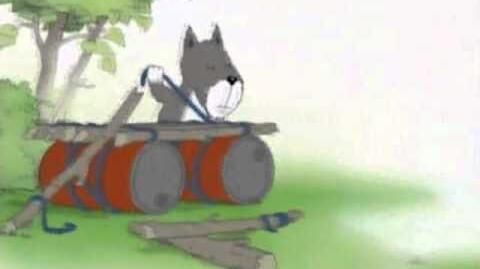 This opening theme similar to Mike Lah's Droopy ones. The first being "The Lost Mug", the second being "Tiger's Sled'', and the third being ''Christmas Eve''.
Community content is available under
CC-BY-SA
unless otherwise noted.