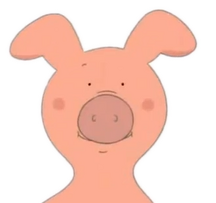 Baby Pig is a pig who is best friends with Kipper, Tiger and Jake. He has a cousin named Arnold, who didn't appear until "Pig's Cousin". He speaks with a brummie accent. He is voiced by Chris Lang.
Personality
Edit
Pig is fun and curious, but he can be greedy, clumsy and overconfident at times, but, mostly he is temperamental and sensible and he does not hold a grudge. Pig loves Chocolate Cake and biscuts. He is often seen eating more than his fair share.
Appearances
Edit
Season 1: Pig's Shop, Pig's Cousin, Tiger's Rocket, Skates, The Butterfly, Kipper is Unwell, The Jumble Sale, The Swimming Pool, Cakes and Tails, Pig's Present, The Nest, Arnold's Drum
Season 2: Kipper and The Flood, The Picnic, The Magic Act, The Magnifying Glass, The Dinosaur, The Flying Machine, The Lost Mug, The Rescue, The Igloo, Jake's Bird, Echo Echo, Tiger's Cold, Hiccups, The Fair, Jake's Friend, The Robot, Arnold's Balloon Trip, Arnold on Wheels, The Ball, Pig's Sweater, The Purple Park Monster, Sleepless Night
He is one of some characters out in the books and TV series who is not a dog.