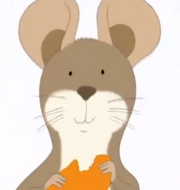 Mouse or Miss Mouse is a mouse who lives with Kipper in his house. She was first seen in Nothing Ever Happens. She made a cameo, but first talked in The Mouse. She has two cousins, who are also both named Mouse. They ate Kipper out of house and home. Mouse Made a Mess She Took All The Corn Flakes and Throw Toys On The Floor and Put Soap on the Toothbrush. Mouse is mischievous, but has a good heart. She speaks with an English accent.
Community content is available under
CC-BY-SA
unless otherwise noted.